How to choose fabric sofa?
Views: 0 Author: Site Editor Publish Time: 2022-01-03 Origin: Site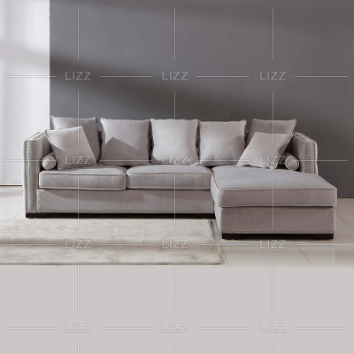 There are many types of fabric sofas on the market, with different specifications, different materials, and different fillings. Only by choosing the most suitable fabric sofa according to your own needs can you get the best experience.
How to choose a fabric sofa?
What materials are common fabric sofas on the market?
What are the materials on the surface of the fabric sofa?
How to choose a fabric sofa?
There are three main factors that determine the quality of fabric sofas: style, fabric and workmanship.
When buying a fabric sofa, you should pay attention: the seat and back cover of the sofa should be a looper structure. High-end fabric sofas are generally lined with cotton cloth, and other easily stained parts should be changed and washed.
fabric sofa fabrics should be relatively thick, durable, and can not be balled after a long time of friction.
fabric sofa fabrics should choose sofa-specific fabrics produced by professional manufacturers with high quality, minimal color difference, high color fastness, and no weft skew. Especially some high-end fabrics have special surface treatments to improve their anti-fouling ability. High-grade fabrics also have anti-static, flame-retardant functions.
What materials are common fabric sofas on the market?
Plant fiber sofa cover fabric
As modern people pay more and more attention to health, their awareness of environmental protection has gradually increased. For sofa cover fabrics, people are also paying more attention to and like those fabric sofas with environmentally friendly materials. The emergence of plant fiber sofa cover fabrics, to a large extent, meets people's demand for environmental protection of fabric sofas. Moreover, the plant fiber sofa cover fabric is very natural and environmentally friendly. The plant fiber sofa cover fabric also has the characteristics of sweat absorption, breathability, toughness and affordable price. But sofa cover fabrics like this kind of plant fiber are more suitable for summer use.
Wool sofa cover fabric
Among the many fabrics, there is a class of fabric sofas whose sofa cover fabric material has the advantages of low price, low cost and diverse styles and colors, and has been deeply loved by consumers. And because of the various styles and styles of this kind of fabric sofa, you can match the decoration style of your own home when you choose. This kind of sofa cover fabric is a plush sofa cover fabric. And this kind of sofa cover fabric can also be customized, it is one of the most popular fabric sofa fabrics on the market. This kind of sofa cover fabric material is more suitable for winter use.
What are the materials on the surface of the fabric sofa?
Silk, satin, hemp, corduroy and other wear-resistant fabrics can be used as fabric sofa fabrics. They have different characteristics. The silk and satin fabric sofas are elegant and luxurious, giving people a magnificent feeling; made of hemp and corduroy The sofa is solid and heavy, and it blows a natural and simple wind. From the pattern point of view, you can choose strips, geometric patterns, large flower patterns and monochromatic fabrics to make sofas.
LIZZ FURNITURE can ensure the fabric sofa's quality and the after-sales service for any product. Customers can order their products with confidence. More information please connect order@lizz-furniture.com.